We believe that human contact is an essential value
An ever-evolving


consultancy firm
Genesis Consult is a Belgian consultancy firm. It was founded in 2003 by Philippe Varin. Bolstered by many years of experience, the firm is growing regularly and consistently. Though it initially focused entirely on the private sector, it obtained ISO certification in 2008. This allowed it to extend to the public markets as well.
Even today, Genesis Consult is continuing to evolve. It is constantly adding new talent to its roster of consultants and regularly bolsters its in-house team. Our consultancy firm specialises in Microsoft and Java technology and is guided by a set of people-centric values and the desire to maintain an equitable, non-hierarchical structure. We have continued to uphold these values since our company was taken over by Dock IT Group in 2018. They unite us around a single mantra: providing a flexible, high-quality service.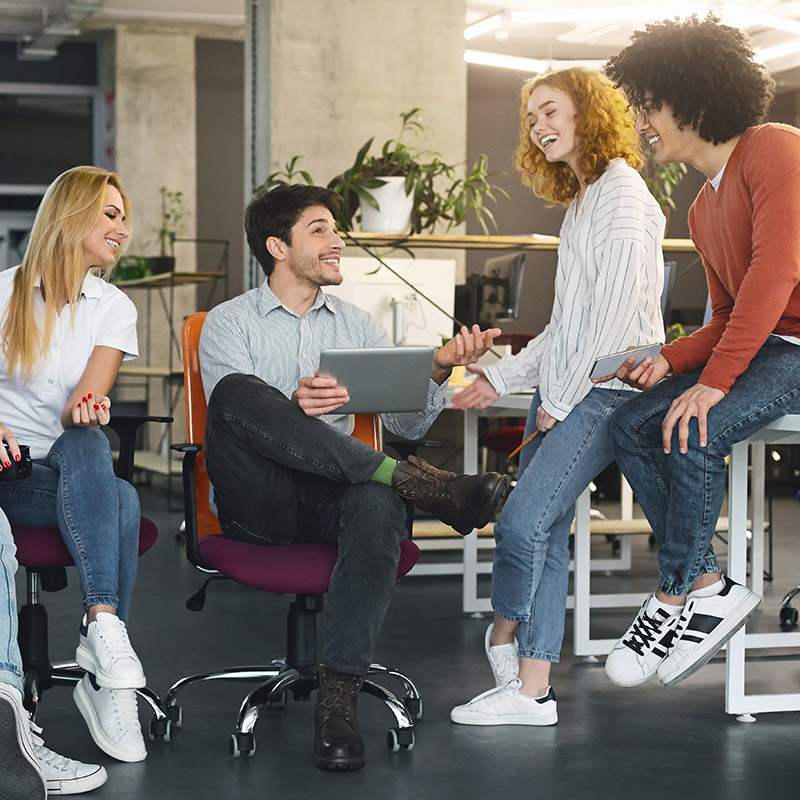 Contact and proximity
We believe that human contact is an essential value. We must not forget that the title "Service Company" contains the word "service". Genesis Consult has therefore decided to focus on quality, in terms of both techniques and the privileged and personalised relationships that we have with clients.
We invest a lot of time and energy into the quality of our relationships, with the involvement of the entire company resulting in excellent outcomes. We visit direct collaborators (employees and external workers) very regularly at their place of work, in order to build and maintain a personalised relationship.

Responsiveness
Our small structure, good organisation and the work of our collaborators allow us to quickly respond to requests from our clients and our consultants. We are always adapting our processes to improve our service.

Fun and pleasure
Our motto: "Pick a job you enjoy and you'll never work a day in your life." We encourage initiative, and collaboration is an essential value. We come from a range of backgrounds and like to learn from each other, in order to expand our company together.
Open-mindedness
Curiosity and open-mindedness inspire great discoveries. These two concepts are therefore key, both from the point of view of the consultant, who must become a driving force in their own career, and the client, who benefits from open and transparent dialogue.

Trust
The best way to demonstrate this trust in Genesis is the very low turnover among our consultants and operating staff. Many of our employees have been loyal to us for many years.
This trusted relationship is also vital for our clients. Some have been relying on our work since we launched and are still reliant on our services.

Flexibility
We do not hide behind burdensome processes or contractual clauses to defend our interests. In order to ensure our success, it is important that our clients and consultants are happy. We strive to make this a reality.

Quality of the service
Our consultants make or break Genesis' reputation. This is all the more reason to put energy and care into a strict technical selection, which is also focused on the "individual" and their personal skills.